Close Colombiaĺs La Tramac˙a, US Funded and Designed Prison
By the Alliance for Global Justice (AfGJ) February 2015
<![if !vml]>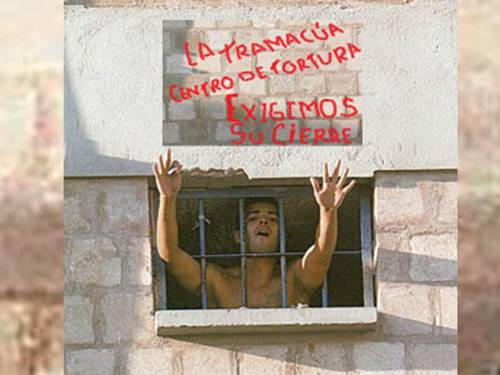 <![endif]>
The Alliance for Global Justice (AfGJ) recently received encouraging news--that Colombia's Constitution Court has demanded that the federal penitentiary in Valledupar, Colombia - "La Tramac˙a" - be closed by October 2015 if the terrible conditions and regularity of abuses committed there are not brought to an end. However, since that decision was rendered, the abuses and inhumane conditions have persisted.
AfGJ recently sent the statement included below to Colombian and US authorities. We are pleased to let you know that the Ombudsman's office of the national government has responded and agreed to look into the concerns we raised, including that they will undertake a visit of verification.
We believe this is a winnable struggle that can be an important step toward the larger efforts to end the model of mass incarceration in Colombia, the United States and around the world. The US is building prisons and/or advising prison systems in at least 25 countries. This whole effort is something we call "prison imperialism", and it started in Colombia with the construction of La Tramac˙a.
We are therefore asking two things:
1) That our supporters sign a petition calling for the immediate closure of La Tramac˙a (see below)
2) That peace and justice organizations write solidarity statements calling for La Tramacua's closure. If possible, write statements in Spanish with an English translation, and send to james@afgj.org .
You can find an English translation of AfGJ's statement on La Tramac˙a here.
Petition to Close La Tramac˙a:
CLOSE LA TRAMACUA, COLOMBIA'S FIRST PRISON FUNDED AND ADVISED BY US GOVERNMENT!
At La Tramacua, temperatures get as high as 105 degrees, with no form of cooling, but prisoners are granted access to water only 10 minutes a day. Toilets are frequently nonfunctioning and open sewage has been observed running by the kitchen. Fecal contamination of food has been documented by the United Nations Commission on Human Rights and other governmental and nongovernmental organizations. Inmates are often subjected to harsh punishments, even torture, especially political prisoners and prisoners of war. La Tramacua was built with US Federal Bureau of Prisons and USAID funding as part of an effort to restructure the Colombian prison system. We call on the Colombian government to immediately close La Tramacua. We call on the US Congress and White House to investigate abusive conditions allowed to flourish at La Tramac˙a and other penitentiaries that are funded by US tax payers and advised by US government agents.