Troy Davis is on death row for the 1989 murder of a police officer in Savannah, GA. He has always maintained his innocence, and there was never any physical evidence linking him to the crime.
Seven out of the nine non-police witnesses have since recanted or changed their testimony, some citing police intimidation. A judge labeled his own ruling as "not ironclad" and the original prosecutor has voiced reservations about Davis's guilt. New witnesses have come forth identifying another suspect.
Despite this, the state of Georgia has signed his 4th death warrant.
See below for actions you can take from the Troy Davis campaign, National Coalition Against the Death Penalty, Amnesty International, and NAACP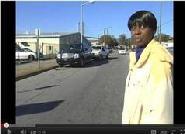 Video featuring Troy's sister Martina
---
Please write to Troy Davis sending letters of encouragement and support:

TROY A. DAVIS 657378
GDCP PO BOX 3877 G-3-79
JACKSON, GEORGIA 30233 USA

---

Other calls for action

National Coalition to Abolish the Death Penalty

National Association for the Advancement of Colored People

---

Troy Davis is scheduled to be executed on September 21st

The day is now here - the state of Georgia has set

Troy Davis' execution date

for September 21st,

just two weeks from today

.

The U.S. Supreme Court refused to hear his final appeal earlier this year. But the story remains the same -

Troy Davis could very well be innocent

.

However, in the state of Georgia, the Board of Pardons & Paroles holds the keys to Troy's fate. In the days before Davis' execution, this Board will hold a final clemency hearing - a final chance to prevent Troy Davis from being executed.

Davis was convicted on the basis of witness testimony -

seven of the nine original witnesses have since recanted

or changed their testimony.

One witness said in a CNN news interview

"If I knew then, what I know now, Troy Davis would not be on death row."



I know it's difficult to believe that a system of justice could be so terribly flawed, but

keep in mind that Troy has survived

three previous execution dates

, because people like you kept the justice system in check!



We've been bracing for this moment and the time for action is now! Here's what you can do to join the fight:

Sign our petition to the Board of Pardons & Paroles urging them to grant clemency!

We'll deliver your signatures next week.

Organize locally for Troy

: Take to the streets with us. Soon we'll be announcing the date for the official Troy Davis Day of Action. Sign up now to rally in the coming days to stop the execution of Troy Davis.

Thank you for fighting for Troy,

Laura Moye
Director, Death Penalty Abolition Campaign
Amnesty International USA
Follow my Troy Davis updates on Twitter: @lauramoye

An execution date for Troy Davis has been set, but an execution is NOT inevitable.

This appeal compiled and issued by Global Women's Strike (GWS), Women of Color in the GWS, and Payday men's network
gws@globalwomenstrike.net +44 (0)207 482 2496