The Overseas Operations Bill was debated in the House of Lords from 9 to 16 March. This debate will continue in the spring both in the House of Lords and the House of Commons. Join our campaign to scrap the Bill
The Bill introduces a "presumption against prosecution" which will make it almost impossible to prosecute UK Armed Forces for war crimes such as murder, torture, genocide, kidnap and crimes against humanity committed overseas more than five years ago.
It will also prevent soldiers from bringing legal action against their employer - the Ministry of Defence - for negligence that took place more than six years prior.
War crimes are almost never prosecuted. Whistleblowers, the International Criminal Court and academics have provided proof that UK troops have committed war crimes. Over 5000 allegations of war crimes were made from the Iraq & Afghanistan wars, yet the government's cover up resulted in only 7 prosecutions… and only 1 conviction.
Allegations of war crimes have most recently been made against the British military in Yemen. This Bill will prevent Yemenis from getting justice.
Join our online campaign
Follow @PaydayRTK & @woc_gws
Use the hashtags #OverseasOperationsBill #WarCrimes
WATCH & CIRCULATE OUR VIDEO (2 minutes)
Sample tweets
· #OverseasOperationsBill would make it almost impossible to prosecute UK troops for war crimes. Watch: https://twitter.com/i/status/1364893865614934022 Sign : https://docs.google.com/forms/d/e/1FAI
· Women & children are the biggest victims of war, suffering rape and other torture and caring for people whose lives have been devastated by conflict. Scrap the #OverseasOperationsBill https://docs.google.com/forms/d/e/1FAIpQLSeU3Gr5EDltN64Z7-baILXPhVK-GQGlqbTYwm7MdrrU0x3Kwg/viewform
· 5000+ allegations of #WarCrimes by UK military were made over the Iraq & Afghanistan wars. The government's cover up resulted in only 7 prosecutions… and only 1 conviction. Scrap #OverseasOperationsBill https://twitter.com/i/status/1364893865614934022
· UK arms and troops are complicit in Saudi atrocities #WarCrimes. The #OverseasOperationsBill will make it harder for Yemenis to get justice in UK courts. https://www.youtube.com/watch?v=oXF5LgKQD24
Tag those opposing the Bill
@ForcesWatch @Reprieve @libertyhq @PPUtoday @UK_CAGE @npolicemonitor @cmjhq @joejglenton @STWCoalition @shamichakrabar1 @hrw @CompassnInCare @womenstrike_us @SanteProject @womenstrike_us @CLSUK1974 @AgainstRape @woc_gws @Camden_Momentum @CNDCymru @WomensInternat2 @GreenAnnGarrett @GLNChicago @cliveabaldwin @amnestylondon
Tag Parliamentarians opposing the Bill
@HackneyAbbott @RichardBurgon @IanLaveryMP @ApsanaBegumMP @IanByrneMP @RLong_Bailey @_OliviaBlake @jeremycorbyn @johnmcdonnellMP @KateOsamor @lloyd_rm @ClaudiaWebbe @KateOsborneMP @zarahsultana @NadiaWhittomeMP @BellRibeiroAddy @jon_trickett @BethWinterMP @CarolineLucas @CMonaghanSNP @MartinJDocherty @BrendanOHaraMP @GreenJennyJones @SayeedaWarsi @natalieben @HelenaK_QC @MenziesCampbell @AlfDubs @PeterHain
SIGN AND CIRCULATE OUR STATEMENT AGAINST THE BILL
What people who signed have said:
   "Shocking that anyone should consider that it is OK for troops whether abroad or at home to abuse anyone with impunity.
   "UK is fast losing its reputation for fair play and becoming a rogue state!
   "They've been doing it since the dawn of the 'British Empire', difficult to teach old dog's new tricks.
   "War crimes need to be condemned and punished, whenever they occur."
   "Britain has avoided any meaningful accountability for its role in murder, rape, torture in Iraq and Afghanistan including complicity in extraordinary rendition, false imprisonment and torture of its own citizens. Instead of starting processes to ensure that justice is done, Britain has opted for granting immunity to those involved in serious human rights abuses and war crimes - under the cover of law.
   "J. Assange has shown us the atrocities committed in war for which the perpetrators are not accountable.
   "If this bill had been law during the last century then some of the Nazi's who finally were taken to court would have escaped sentencing.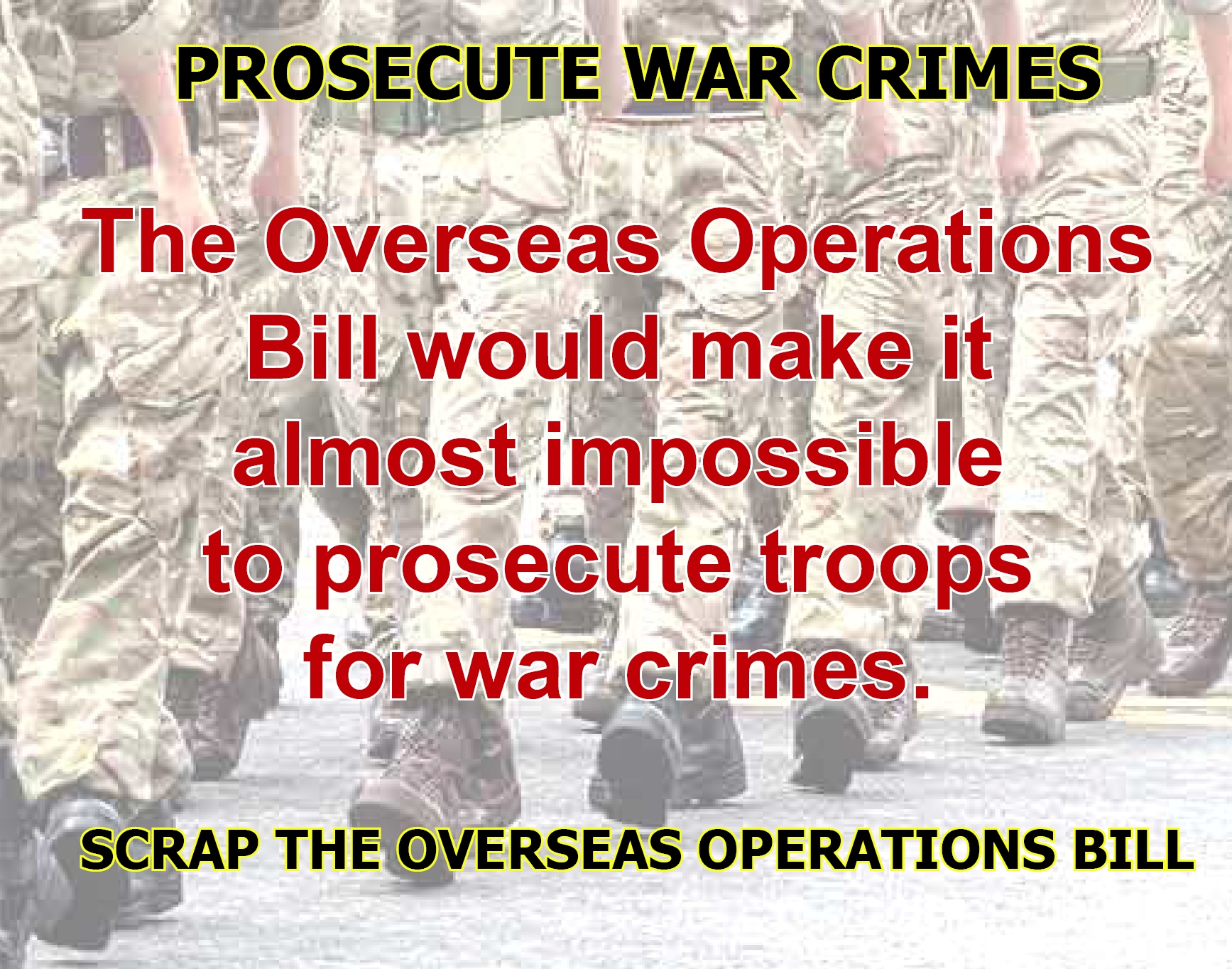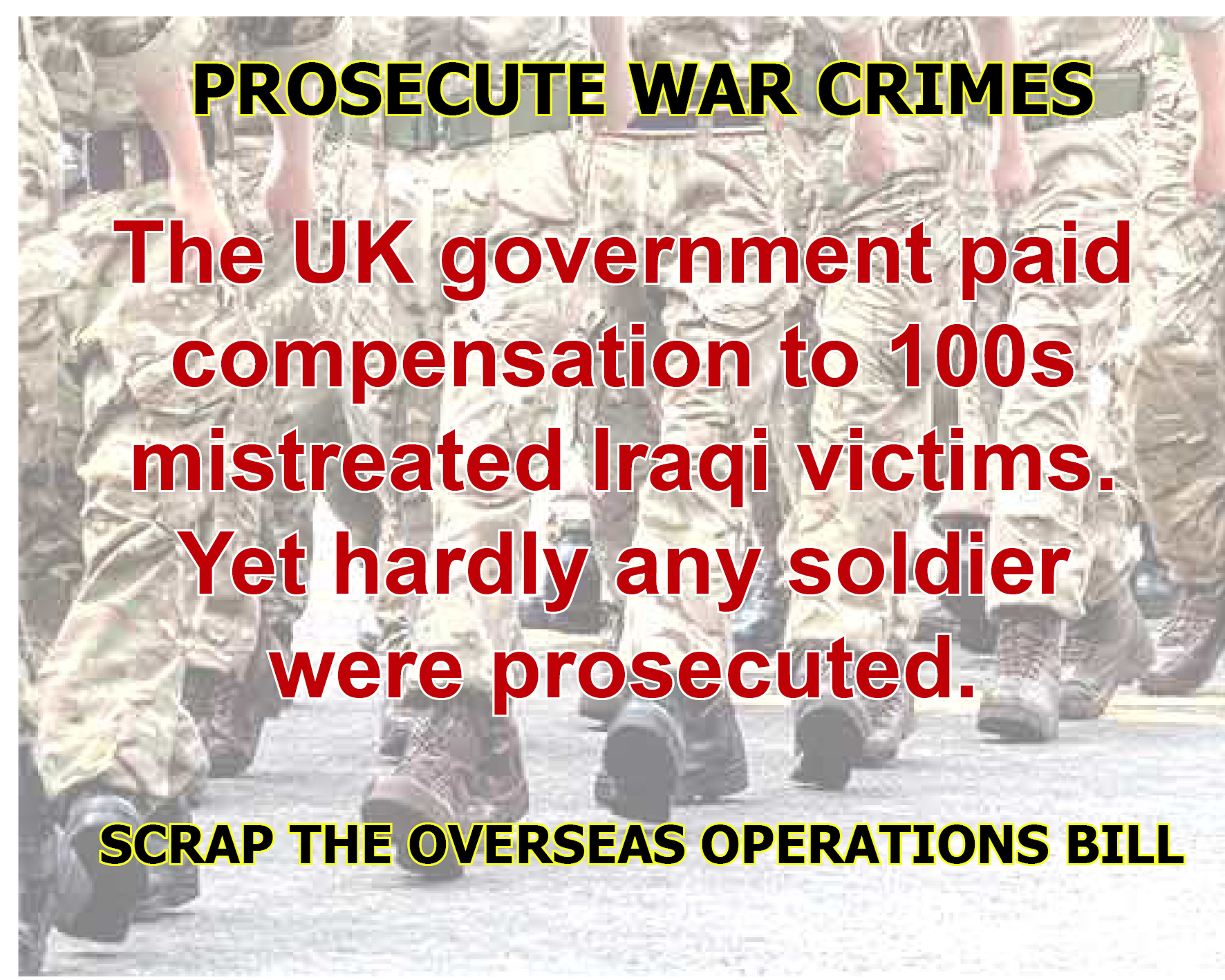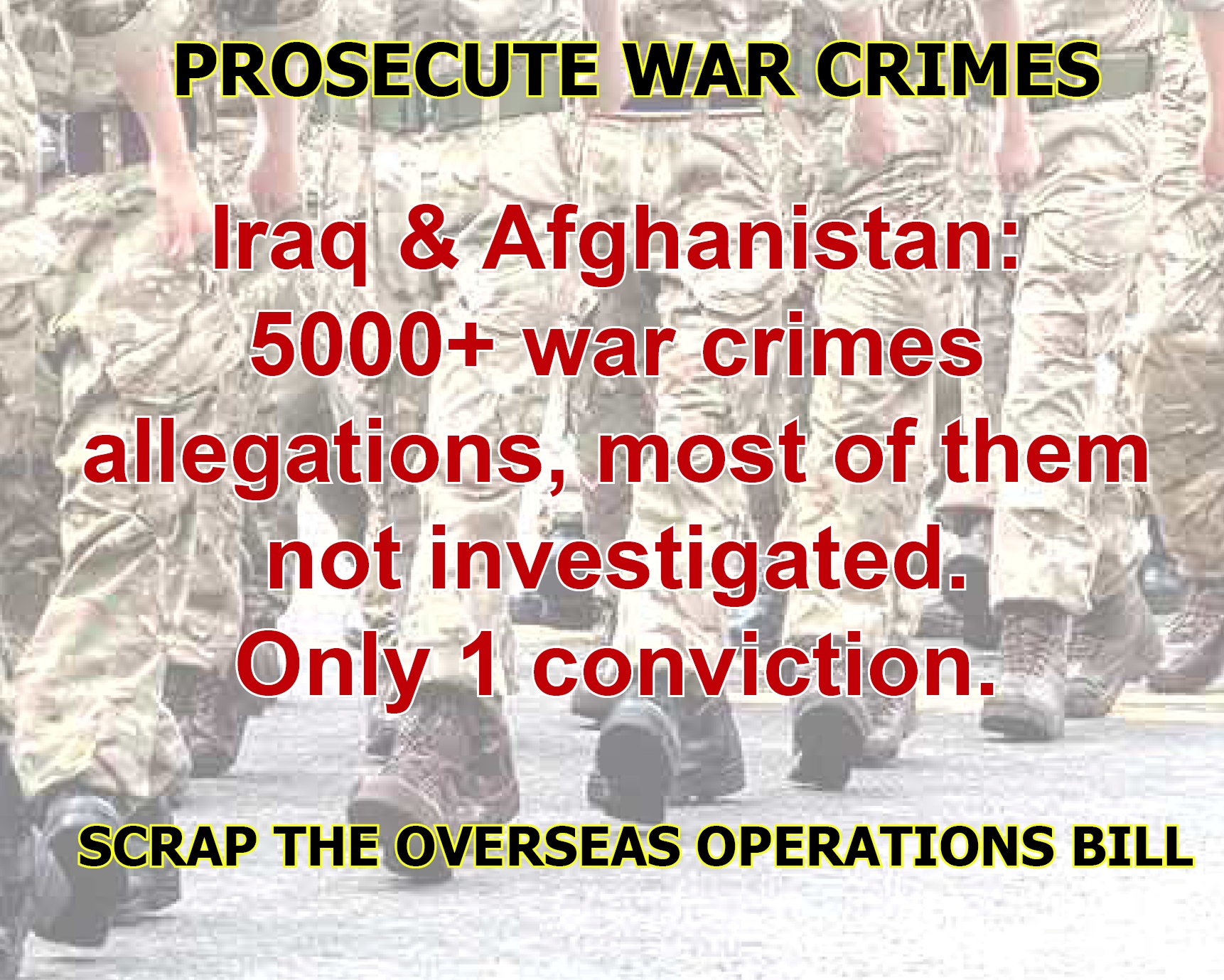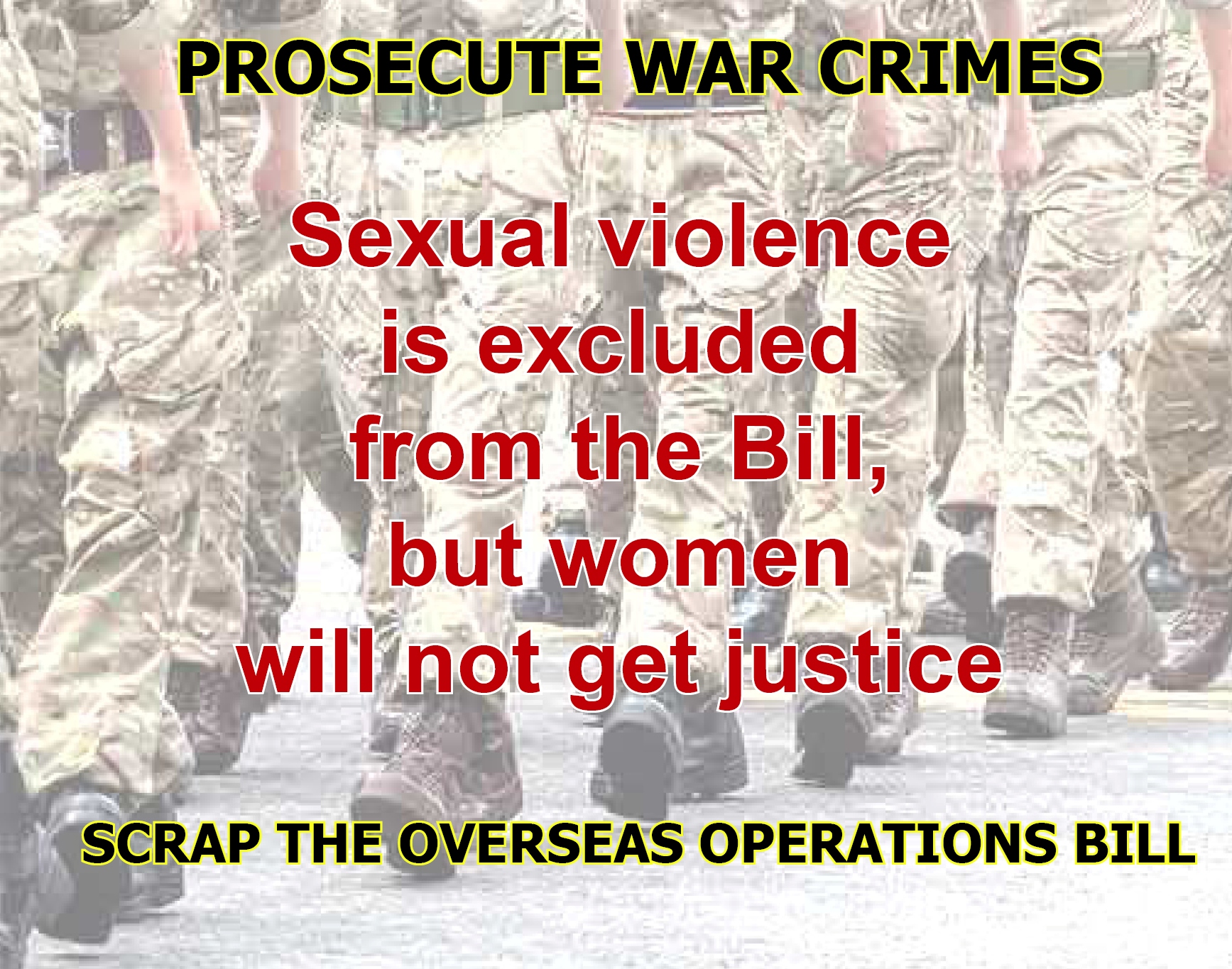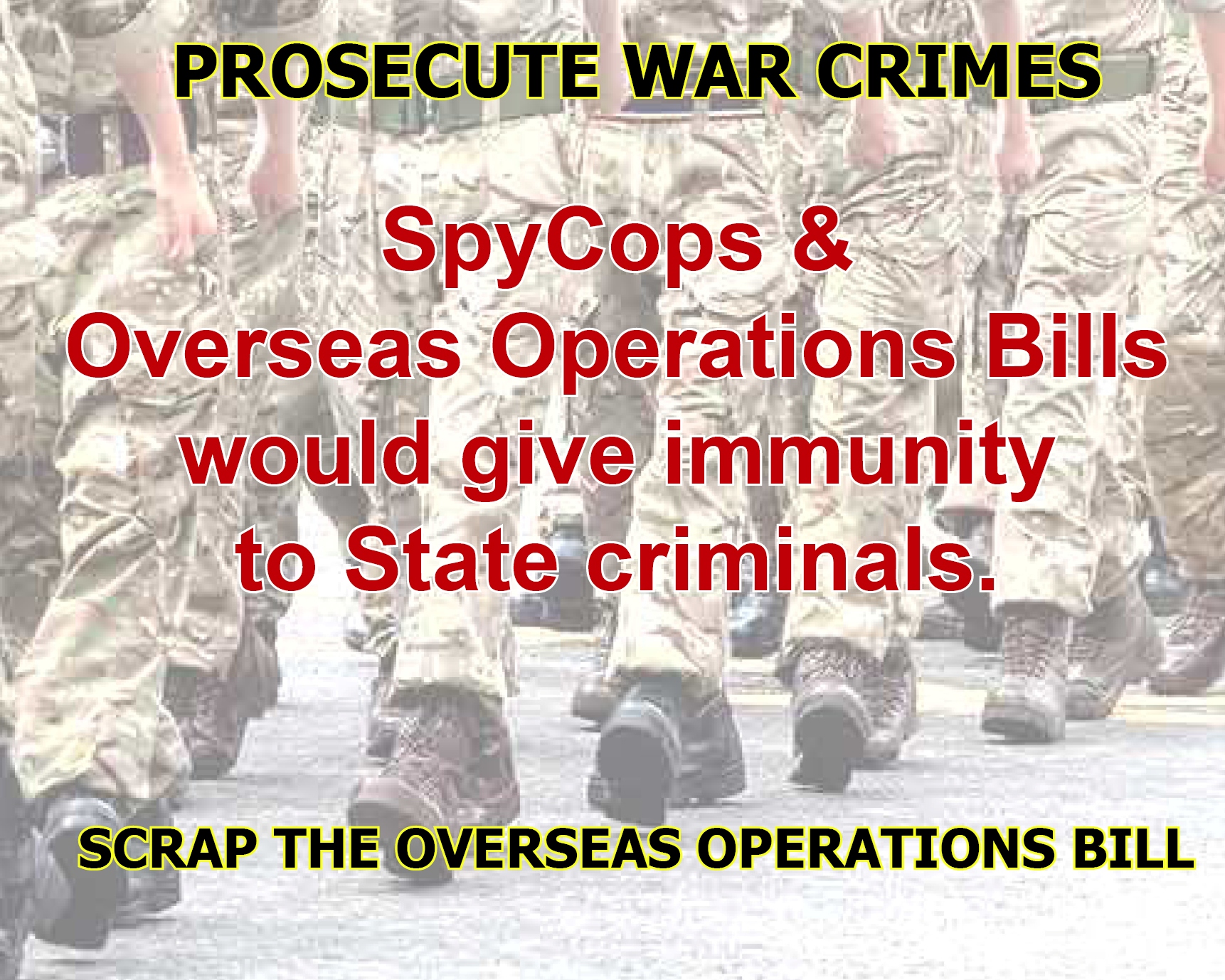 | | |
| --- | --- |
| Women of Colour/Global Women's Strike | Payday men's network |