Dear friends,
URGENT: Overseas Operations Bill in the Commons:
contact your MP now!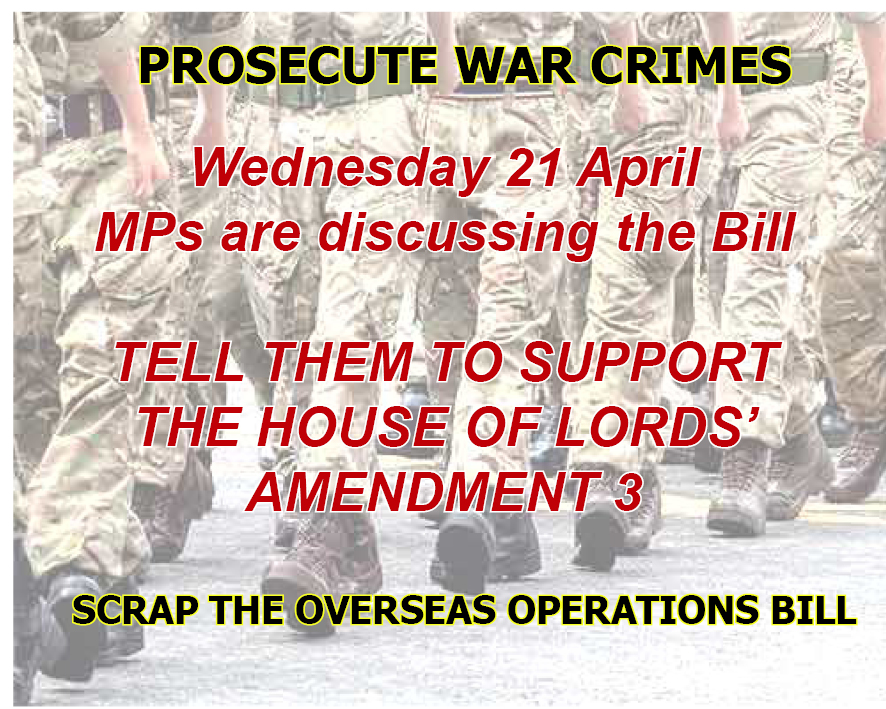 On 12 April, the House of Lords adopted an amendment to the Overseas Operations Bill, by a 333 to 228 majority to undermine the core section of the Bill which would have effectively given impunity to UK Armed Forces to commit war crimes, crimes against humanity, genocide and torture.
This is a victory for human rights – especially for war crimes' victims who are usually women and children and overwhelmingly people of colour.  This breakthrough has only been possible because of the breadth and diversity of the opposition of groups and individuals campaigning to stop the Bill. 
We want to thank everyone who signed our statement Don't give the UK armed forces license to kill & torture, including 15 organisations.
On Wednesday 21 April, the Bill will return to the House of Commons for a 'consideration of amendments'.  Although we want the Bill scrapped in its entirety, we aim to press MPs to support the Lords' amendment 3 – which exempts war crimes, crimes against humanity, genocide and torture from 'the presumption against prosecution'.
Your support is critical. Please contact your MP now!  Below is the letter we sent to all MPs. You can copy and paste part or all of it or write your own.
Thank you for acting now to help defeat this inhuman piece of legislation.
Payday men's network / Refusing to Kill
Women of Colour / Global Women's Strike
---
Dear MP
When the Overseas Operations Bill returns to the Commons on Wednesday, 21 April, we urge you to vote for the House of Lords' amendment 3 (adopted by 333 to 228) – which exempts 'war crimes, crimes against humanity, genocide or torture from the 'presumption against prosecution'.
Amendment 3 was tabled by Lord Robertson of Port Ellen (Labour, former NATO General Secretary), Lord Campbell of Pittenweem (former Lib Dem leader) and Lord West of Spithead (Labour, former Admiral).
The government said the Overseas Operations Bill was needed to protect soldiers from "vexatious claims". But there is shocking evidence that war crimes have been committed by military personnel overseas and that the government has blocked attempts to bring them to justice.  It must be highlighted that victims of war crimes are usually women and children, and overwhelmingly people of colour. 
In reality over 5,000 allegations of war crimes were made from the Iraq & Afghanistan wars, – including recently revealed massacres – yet the government's cover up resulted in only one conviction.  And some of the crimes committed in Yemen right now by or with the complicity of British Forces are gradually being revealed, including the bombing of civilians and the training of child soldiers. 
It has been opposed by the Peace Pledge Union, Liberty, Amnesty International, Quakers, Reprieve, and a wide range of other organisations including women's, human rights, anti-war and military personnel as well as academics, prominent individuals, including Tory peers and the Parliamentary Joint Committee on Human Rights.
We urge you to support the House of Lords amendment 3.
Your sincerely
Ben Martin, Payday men's network / Refusing to Kill
Sara Callaway, Women of Colour in the Global Women's Strike
In speaking against the Bill, peers said:
· We deal all the time with countries that do not observe the rule of law, be it Hong Kong, China in respect of the Uighurs, or Myanmar in respect of the Rohingyas—or, indeed, of their own citizens. We can ill afford to join the ranks of countries that breach [the rule of law]." Lord Dubs (Labour)
· "Why [is] the murder of a fellow British co-worker more serious than that of, say, an Iraqi or Afghan civilian? Surely the crime cannot be judged differently depending on the victim, rather than the act and intention of the perpetrator'. Baroness Warsi (Conservative)
· 'The Bill . . . stems from a false assertion that there is some sort of crisis of vexatious claims against UK forces, although in truth, hardly any criminal prosecutions have been brought against service personnel in relation to Iraq and Afghanistan'. Baroness Jones of Moulsecoomb (Green Party)
· "There is already an exclusion in this legislation for rape and other sexual offences. It is there correctly.   There are many reasons why you could not bring a prosecution within that window of five years in relation to sexual offences . . . The same is true for victims of torture and other grievous war crimes." Baroness Kennedy of The Shaws (Labour)
· "This Bill is clearly in line with the Trumpisation, tabloidisation, coarsening and simplification of our national dialogue—reduced down to slogans and knee-jerk reactions—that has marked the past few years, Baroness Bennett of Manor Castle (Green Party)
· 'Field Marshal Lord Guthrie, former Conservative Defence Secretary and Foreign Secretary Sir Malcolm Rifkind, and former Conservative Attorney-General Dominic Grieve, have all publicly opposed this measure [the presumption against prosecution].'  Lord Robertson (Labour)
What others have said:
· I urge UK legislators in both Houses of Parliament, and the Government . . . to ensure that the law of the United Kingdom remains entirely unambiguous with regard to accountability for international crimes perpetrated by individuals, no matter when, where or by whom they are committed." Michelle Bachelet, UN High Commissioner for Human Rights
· The Bill "risks contravening the UK's obligations under the UN Convention Against Torture, the Geneva Conventions, the Rome Statute and international customary law." The Joint Committee on Human Rights
· "The Overseas Operations Bill . . . disturbingly, experts warn it allows torture by the backdoor. This shameful moral failure not only flouts international law, but drives a coach and horses through Britain's international reputation. Implying troops are untouchable sends a dangerous message about our values, giving rogue regimes carte blanche to commit war crimes." Defence editor, Daily Mail, 13 April 2021
---