London vigil demand to free Chelsea Manning
17 December 2014
Over 60 people representing many different organisations, were part of the Vigil to celebrate Chelsea Manning's birthday, on Wednesday 17 December on the steps of St Martin-in-the-Fields, in London.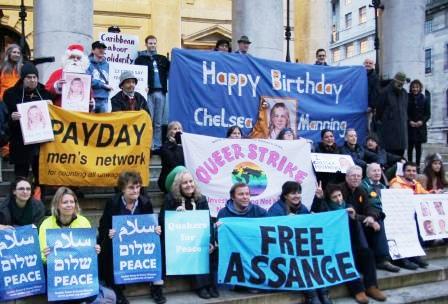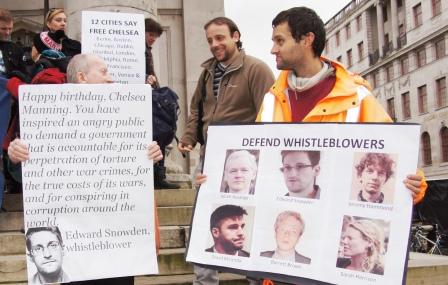 This was part of international actions in 12 cities – from Dublin to Istanbul, San Francisco to Rome – demanding the release one of the world's best known whistleblowers.
The vigil, called by Payday men's network and Queer Strike, brought together supporters of peace, veterans, lgbtq, anti-racist, anti-zionist, whistleblowers movements and others for social justice. Campaigners were from many different countries, including survivors of torture in Chile, Caribbean Labour Solidarity, people from the Assange Vigil, and still others. People wrote messages to Chelsea in a giant birthday card. Hundreds of passers by from different countries stopped to talk, take photos and/or join the protest.
Chelsea Manning, who is 27 this week, is the transgender US soldier, who revealed to Wikileaks war crimes and corruption by the US, UK and other governments. She was sentenced to 35 years in August 2013.
The protest received messages of solidarity from Vivienne Westwood and Pentagon Papers whistleblower Daniel Elsberg who wrote : "Without the example of Chelsea Manning, both her disclosures and her treatment by the Injustice System, we probably would not have the revelations of Ed Snowden."
Giorgio Riva from Payday added: "Chelsea's action has inspired a new movement of whistleblowers, with people like Edward Snowden, but also thousands of lesser known people working in institutions of all types. The authorities hope to make an example of Chelsea in an attempt to hinder a now unstoppable movement."
Didi Rossi from Queer Strike said, "Chelsea is our lgbtq anti-war whistleblower heroine. Her disclosures have strengthened and protected people from all backgrounds and communities internationally. We have benefitted from her whistleblowing and we all have a responsibility to get her out."
Chelsea is preparing an appeal for 2015 and many of us have vowed to continue building the pressure for her release, so that we can "celebrate her freedom and not only her birthday the next year" as one participant put it.